My first little project ever has been featured not once, but twice now! I am so honored. The first to feature me was Stephanie Lynn of
Under the Table and Dreaming
. And just today, my ceiling medallion wall art was featured by Jan at
Bobbypins Boardwalk
. Both of these ladies have unbelievable talent, and are such sweethearts. I scour their blogs daily for inspiration. You should too. Be sure to stop over and pay them a visit. You'll be so glad you did!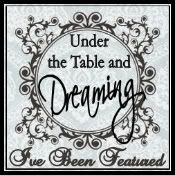 A quick update on what's been going on. Friday's youth event at our house was a success. Saturday morning I took the kids to driver's ed, then went garage sale shopping with my 10 year old son. He was pretty patient. I was proud of him.
After I came home I had plans to tackle the "Beast" again, but I was just exhausted...so I took a nap, then pretty much vegged out the rest of the afternoon and evening. Today, after church, I did go out and took another layer off the "Beast." Man what a workout! My arms were just trembling and I finally had to stop. I just have one more coat on the right door and then the right side to finish stripping. Then I'll be sanding...and sanding...and sanding!
My garage sale trip was a little disappointing, but I did find a couple things to show you.
I found an umbrella for our outdoor table for $15. It would not have been my first color choice, but it's not bad.
Although it's hard to see in this picture, this frame is really beautiful. I'll be changing it up somehow. I really love the crackle glass candle vase. It just sparkles in the light. I may just leave the base as it is. It looks like antique silver and I kind of like it.
These dirty vases already got a new coat of primer and paint. I still have to glaze them. I'm thinking
twin topiaries
. I'll be posting them soon.
Happy crafting!