Is Creative ADD a disease? Because I think I have it. It's got to be why I have so many unfinished projects lurking in my closets, basement and barn. I get frustrated or tired, or just plain bored, so I leave one project for a while, and start another...usually a much simpler one. I guess I need the gratification of finishing something when the BIG project is taking foreeeever.
Unfortunately, in the past, taking a break from a big project has often been the death knell of said project. I just never can seem to bring myself to return to it. I think I've found the cure to Creative ADD...start a blog. Now I am accountable to my followers to...ahem...follow through. I'm thinking this could be a beautiful relationship.
All that to say I took a little break...from the big cabinet I've come to think of as "The Beast." Actually, I did need some time to clean my house. People are coming to my house Friday. Teen people...from my son's youth group. I know, I know, my kids tell me all the time...my friends don't care how the house looks. Well, they might care when they are cowering in the corner with a chair and a whip fighting off the dust
lions
bunnies.
But I took a break from dust bunny killing, to work on this little number. (See, I even need breaks from my breaks!) I had already painted the base...and it was calling to me. What's a girl to do? This is what this girl did:
Here's the before and the in between:
After priming and spray painting with Heirloom white, and a little sanding the edges...
I used my Pizza Hut gift card for a straight edge to mark the centers between the scallops. (Dear Pizza Hut, if you want to pay me for the advertising I just gave you I will graciously accept...I heart your pan pizza!)
Then I marked from the dip in each scallop to my center marks, thus creating a diamond pattern.
My attempt at taping off to paint the diamonds...
didn't work so well
Entrevue my fine line paint brush
It really wasn't too hard...just load the brush with paint, steady your hand against the bowl, hold your breath (literally), and pull the brush toward you.
I had these cute letter brads from my scrapbook stash. I just cut the brad part off the backs...
then hot glued them at the intersection of the diamonds.
Mine spells, "Trust in the Lord." I need that reminder...every day.
I linked to these parties. Go pay them a visit for tons of great projects!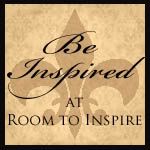 Today's Thrifty Treasures