My favorite project that I did for
Jared's bedroom
was the hubcap clock. It was an easy enough project, but I had to make a tweak or two because of the shape of the "face."
I had a clock kit that I bought a couple years ago, but never used. I don't remember what I paid, but it was a Walnut Hollow kit. I googled it and found them at Create for Less for 6.99. You can buy them in several sizes (shaft length). I had to adjust mine as you will see below.
The hubcap I found in the barn and hubby let me use it. You could probably find one pretty cheap at a car junk yard. I don't recommend taking one off your husbands car...just sayin.
The first thing I did was to shine it up with fine steel wool. There were some places where some black paint still lingered, but the steel wool took it right off. Then I marked the middle of the chevy emblem and drilled a large enough hole to insert the post of the clock works through.
Next I wrapped a plastic bag around it and taped around the emblem so I could easily paint it. I didn't have red spray paint, so I just used the red paint I'd used for everything else in his room. A couple of coats covered it.
There were several little gold pieces that came with the clock works that I spray painted silver. That was interesting. They were so lightweight that the spray kept blowing them around. I only needed to paint one side.
I also painted the numbers that came with the kit. I forgot to take a picture of that, but they came all attached together on a plastic piece, which made painting very easy. You can see what they looked like in the picture of the kit above. After they dried, I cut them off the plastic holder, peeled off the backing and stuck them on the front of the hubcap.
Because I wasn't using a traditional wood clock face, the shaft on the clock motor was too long. I needed something to use between the motor and the back of the clock, but it still had to stick out far enough for the hands to clear the raised lip around the middle of the hubcap. I tried a piece of wood, but it was too thick.
I remembered a piece of dense styrofoam I'd saved. I've used pieces of it for different projects.
I shaved a small piece of it about 1/4 inch thick and sliced a hole in the middle for the shaft to go through.
Then it was just a matter of following the kit instructions to put it all together. Easy peasy. I used a nail with a larger head to hang it on the wall. The rim on the back of the hubcap catches on nail head pretty well. So far it's not fallen off! I did hang it in a relatively "safe" corner of the room where it's not likely to get bumped.
Every time I see the Chevy emblem, I want to start singing, "Like a rock..."
Disclaimer: In no way will the author of this blog bear responsibility for hubcaps missing from neighbor's cars nationwide.
Clock - (noun) A small mechanical device to wake up people without children.
My hubcap clock was featured at Craft Gossip. Thank you Amanda!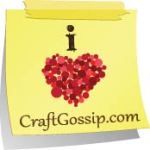 I've linked to these awesome parties. Be sure to check them out for tons of fabulous ideas:
The Shabby Chic Cottage - Transformation Thursdays
Tools are for Women Too
It's so Very Cheri - Spotlight Yourself
Beyond the Picket Fence - Under $100 Linky Party
Somewhat Simple - Strut Your Stuff Thursday
Suzy's Artsy Craftsy Stitcom - Commercial Break Thursday
My Romantic Home - Show and Tell Friday
The Shabby Nest - Frugal Friday
My Repurposed Life - Catch as Catch Can
Just a Girl - Show and Share Day
Funky Junk Interiors - Saturday Night Special
My Backyard Eden - Make It Yours Day
C.R.A.F.T. - Making Monday Marvelous